Coospo HW9 Armband Heart Rate Monitor Review
 I was asked recently to review the Coospo HW9 Armband Heart Rate Monitor.
As some of you know, I'm a big fan of heart rate training and for this you need a heart rate (HR) monitor. My preferred HR monitor is a chest strap although I do sometimes use the HR monitor on my Garmin watch. So I was excited to test out an armband HR monitor and to see if  it would suit me and running.
What you get in the box
HR monitor

Arm strap x2
USB Charging cable
User Manual in Chinese and English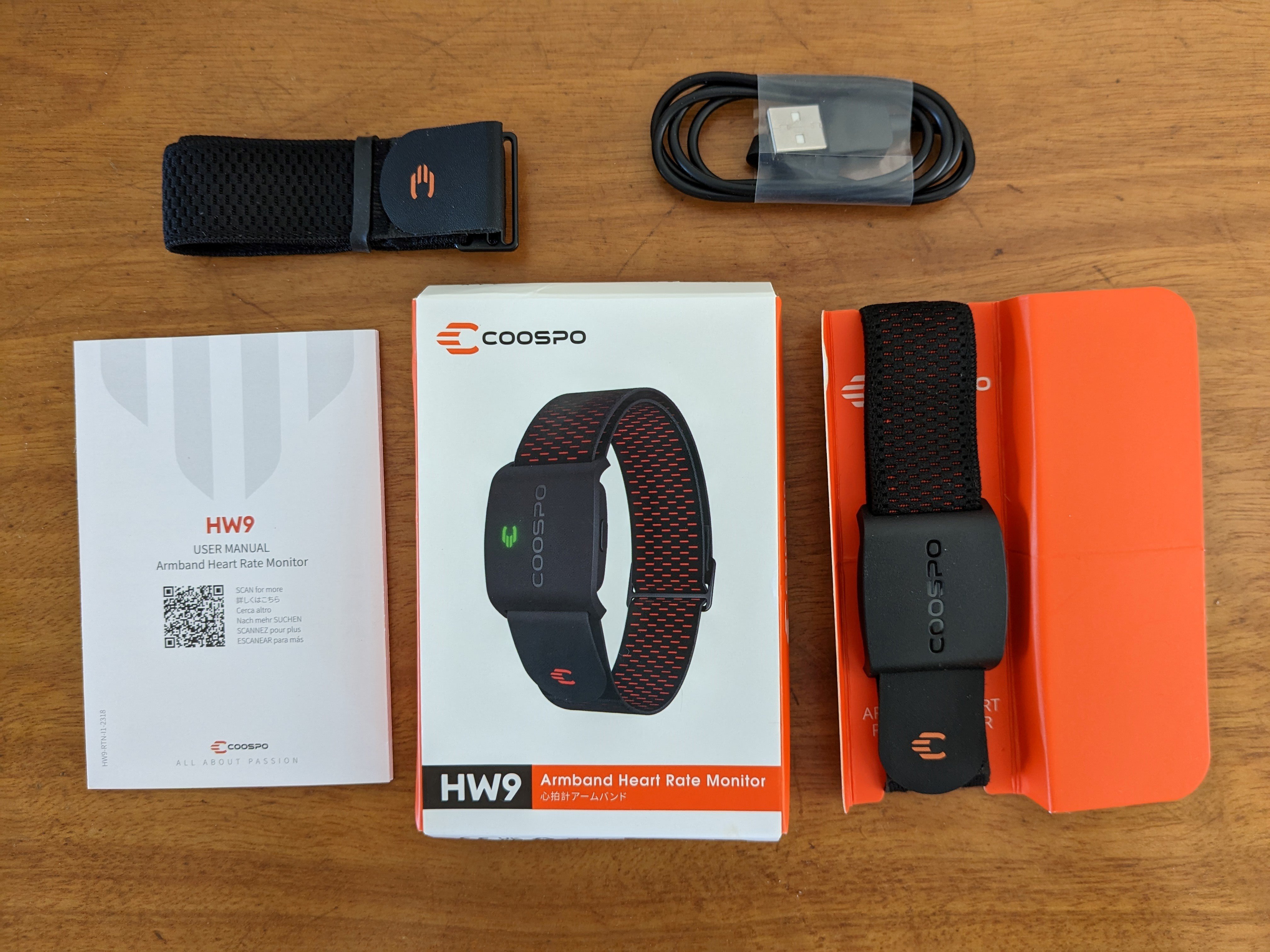 Coospo HW9 Armband HR Monitor
First thoughts
Coospo is a Chinese brand so I was happy to see the user manual was in both Chinese and English. The monitor plus the strap weighs a mere 21g so nice and light.
The strap itself has a nice stretchy and soft feel to it and there didn't seem to be any rough edges which might irritate my skin. The whole unit flet well made and had a quality feel to it and I was excited to test it out and to go for a run.
Connecting to my GPS watch
Connecting the Coospo HW9 Armband Heart Rate Monitor to my Garmin GPS watch (via Bluetooth 5.0 and ANT+) was not complicated. I just followed the instructions and my watch seemed to find it straight away.
You do need to remember to turn on the HR device when pairing as it is not like most chest straps which have no on/off button. I actually like having an on/off switch as I find the battery of my chest HR monitor seems to drain quite quickly if I forget and leave it attached to the chest strap. With the Coospo HW9, there is a rechargeable lithium battery which is a great plus.
On/Off button
Charging the Coospo HW9 Armband Heart Rate Monitor
Charging the Coospo HW9 Armband Heart Rate Monitor is very easy. One end has a magnetic attachment which you connect to the HR monitor and the other end slots into the USB port of your computer. When charging a green LED light on the unit flashes and when fully charged the green light stays permanently on.
The manufacturer says the charging time is 1.5 hours but I've not let it run right down so not tested that claim. I usually charge it every 6 hours of running and I've found within 30 minutes it is fully charged. The full battery life is reportedly 35 hours.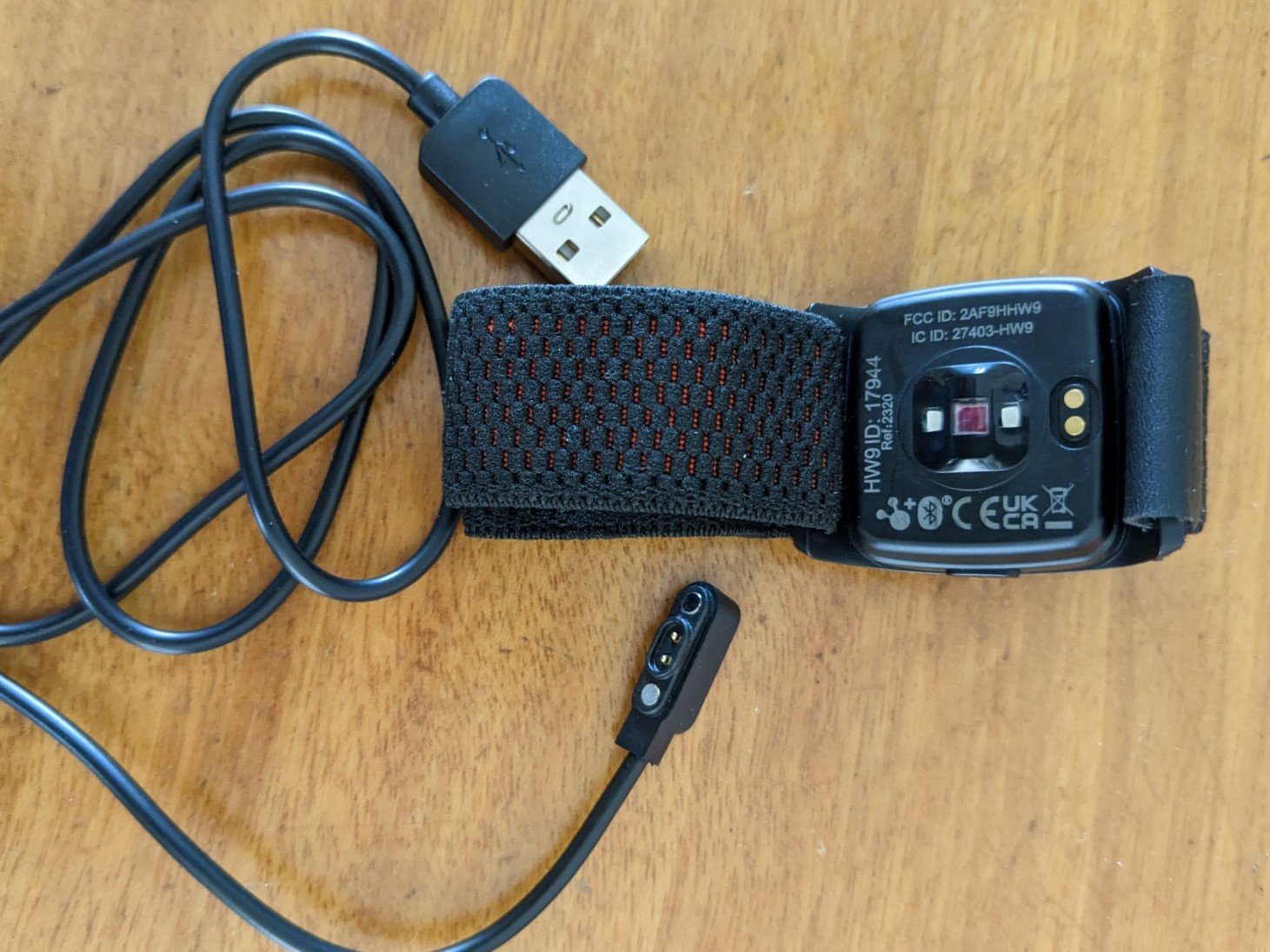 Coospo HW9 charging cable
Wearing the Coospo HW9 Armband Heart Rate Monitor
You have two options. Either you can place it on your upper arm or you can place it on your forearm, but not on your wrist. It wasn't quite clear on which side of my arm to actually place the monitor so I chose to have it on the outside.
Now I'm quite slim, well my arms are. This meant I took a while adjusting the strap to get it to feel comfortable and to not slip off. I was given 2 straps, both size M. The fattest part of my upper arm is 25cm but the strap measures 32cm so luckily I was able to shorten the strap using the toggle. I think though I would have preferred a size S if that is available. It is not easy to adjust the strap whilst wearing it so you need to get it right before heading out the door or you have to stop your run and take it off to adjust it. Once on though it felt comfortable.
Coospo HW9 HR armband - Upper Arm
Coospo HW9 HR armband - forearm
Going for a Run
I spent a couple of weeks testing out the Coospo HR armband. I tested it on both my upper arm and my forearm and I was pleasantly surprised at how comfortable it was and there was no irritation whatsoever. There was however the occasional slippage on my forearm but then I think it was to do with me not having it tight enough.
As you run there is a small LED light which flashes on the unit. The light changes colour depending on which HR zone you are in. I particularly liked being able to see what HR zone I was in as this is essential to HR training. Initially  I wasn't sure what the factory set max HR was so had no idea whether the HR zones were relevant to me. However, you can change the max HR and thus the zones in the Coospo app.
As for accuracy, I was pleasantly surprised. The optical HR sensor picked up my HR immediately and it was quickly responsive to HR changes. I couldn't test it at the same time as my HR chest strap but I did feel it was pretty accurate.

Setting HR zones in the CoospoRide app
Coospo seems to have originally been developed for cyclists so it took me a while to work out that I needed to use the CoospoRide app. There is no specific Coospo app for runners. You can also use the heartrate app but I have not tested that.
Once you sign up to the CoospoRide app and have input your details, you can then change the max HR and you can set the unit to alarm (buzz) when you reach a particular HR. This is a really nice feature if you do MAF heart rate training and so perfect for me.
To set the HR zones was a bit difficult to find but here's what I did:
Turn on your HR armband and go to the CoospoRide app. Make sure you are already signed up.
Click 'more' (bottom right of the the screen) then 'sensors'.
Click 'Heart Rate'. Here you can then change your Max HR and set a HR alert. I set mine to my MAF max heart rate.
Your HR armband will then be automatically updated with your new max HR. The HR armband will buzz when you reach your HR alert setting when out running.
Pros and cons of the COOSPO HW9 Armband Heart Rate Monitor
There is a lot to like:
The price is very competitive.
The device is very light and small.
The strap is extremely comfortable and waterproof (not for swimming).
Easy setup.
Accuracy of the optical HR sensor seems very good.
Can choose to wear it on your upper arm or forearm.
I like being able to see my HR zones via the blinking LED light.
Rechargeable lithium battery and easy charging with a 35-hour battery life.
Instructions in English and Chinese.
Things to improve:
The app is confusing as it is mostly geared to cyclists. There is room for improvement.
The straps should come in different sizes.
Would I buy it
The Coospo HW9 armband is easy to use straight out of the box and price wise it is very competitive. I really like the fact that it is rechargeable and most importantly it seems to be accurate. Although I normally wear a chest HR strap I did in fact find the armband more comfortable as the chest strap can be uncomfortable and constricting under my running bra.
One big plus for me was being able to see my HR zones instantly via the coloured blinking LED and which you can't do with a chest strap. Usually I use my GPS watch but I find seeing the LED blinking on the armband far easier. I'm someone that needs reading glasses! I also loved the buzz alert when I hit my preset heart rate.
Overall I was pleasantly surprised with the COOSPO HW9 armband heart rate monitor and yes I will continue to wear it instead of my chest strap. It is certainly one to consider if you are looking for an armband HR monitor that is rechargeable, comfortable and so far, reliable.
It is available to buy on their own website Coospo and on Amazon.