Homemade Low Carb Energy Bars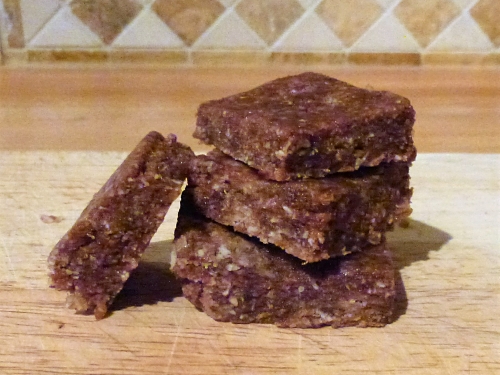 These homemade low carb energy bars were the first thing I made in an attempt not to use shop bought gels and bars. Since then I have been hooked on making my own running snacks and fuel.
I really like knowing what I am eating (no e-numbers, hidden sugars and binding agents....) and they taste far nicer than bought bars. I am sold on them.
First a little confession. I didn't create the recipe myself but in fact borrowed most of the idea from Phil Maffetone. I have played around  with the quantities and ingredients though, in order to get it to just how I like it.
Ok, let's start cooking. Actually forget that as in fact these Homemade Low Carb Energy Bars need NO cooking. How good is  that?!
Ingredients : Homemade Low Carb Energy Bars
400g Ground Almonds
60g Powdered egg white
35g Unsweetened Desiccated Coconut
30g Cacao Powder
115g Honey
2 Teaspoons Vanilla Essence
Pinch Himalayan Salt
1/3 cup (80ml) warm water
Utensils:

Baking tray, roughly 28x18cm or equivalant
Grease proof paper or cling film
Large mixing bowl + wooden spoon
Method : Homemade Low Carb Energy Bars
The method for these homemade low carb energy bars is simplicity itself.
Place all the dry ingredients in a large mixing bowl and mix well with the wooden spoon.
Now add all the wet ingredients and continue mixing with the spoon. You may need to use your hands at this stage.
You want the mix to be well combined and a bit sticky so that it all comes together in a ball. If it feels too dry, add a bit more warm water. Alternatively, if it feels too wet, then add a bit more ground almond  or coconut.
Line the baking tray with either grease proof paper or clingfilm. The purpose of this is just to make it easier to lift out the bars once they have set.
Tip the mix into the baking tray and press down with your hand or the back of a spoon. The mix should be about 1 - 1 1/2" thick.
Place in the fridge for a couple of hours to firm it up.
When it is firm, cut into squares. I usually divide it into 20 pieces but you can do as you wish.
These can be kept in the fridge for 2 weeks. However a way to make them last longer, is to pop them in the freezer and just take them out as needed. They defrost very quickly.
Nutrients per piece (based on 20 pieces):
Kcal:  171
Protein: 8.25g
Fat: 12.5g
Net Carbs:  6.65g