Mio Link Review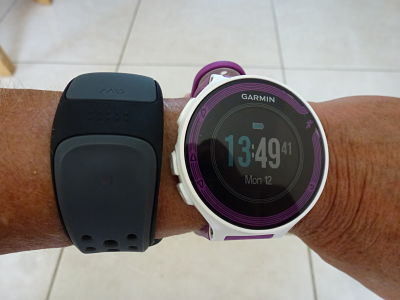 Mio Link Review
My Mio Link review....
I never used to track my heart rate (HR) whilst running until I started MAF training. MAF ( Maximum Aerobic Function)  training means that you are training according to your heart rate rather than by pace so a HR monitor is obligatory.
I have a Garmin 220 which meant that I needed a HR monitor. I couldn't afford another watch and I didn't like the idea of chest straps although I know many feel that they are the most reliable, so I opted for the Mio Link HR wristband monitor. I've had it for over a year and in spite of a few problems early on, I am pretty happy with it.
Mio Link Review - How it Works?
First off, the Mio Link is NOT a GPS and it is NOT a watch. It is basically an optical HR monitor which uses optical light sensors to read your heart rate through the capillaires in your skin. This information is then transmitted via ANT+ to your GPS device. In my case it uses  ANT+ to transmit the information to my Garmin 220.
The Mio Link also uses Bluetooth Smart so that you can pair it with a phone app that supports it.
Mio Link Review - Setting Up
It is really easy to set up. Just place it on your wrist, press and hold down the central button until the green light comes on, then let go. That's it! The green light then  gently fades in and out as it searches for your heart rate. Once it has found it, the light changes to a steady flash.

To turn off the Mio Link, press and hold down the central button until the green light goes off.
In terms of sizing, I have a small/medium strap and it fits fine on my small wrists. It even fits on my husband's wrist.
Pairing the Mio Link with my Garmin 220
My Garmin 220 picked up the signal straight away from the Mio Link. It was so easy.  I like easy! On my Garmin screen, it said "Heart rate detected" and then after a few seconds, my HR was displayed on my Garmin screen.
Next step was to set up my HR zones. To do that you need to go into your watch settings. I did that on Garmin Connect online. I found HR zones in my device settings and set up my maximum HR and my chosen different HR training zones. Once that is done you are all set to go.
You will notice that the Mio Link light starts off flashing either light blue, blue or green and as your HR rises that will change to yellow, pink or red. Each color represents a different HR zone (the ones that you set up in your GPS watch settings), with light blue being the lowest HR zone and red being the maximum. That way as you are training, you can see which zone you are in without looking at your GPS watch. To be honest I prefer to look at my watch so I can see exactly what my HR is.
Charging and 
Cleaning
 the Mio Link
The Mio Link comes with a USB charger that plug straight into your laptop. It has 4 magnetic pins that you align with the 4 pins on the Mio Link itself. They then snap together and the charging starts. Whilst it is charging, a blue light slowly fades in and out. When it is charged, the light goes off.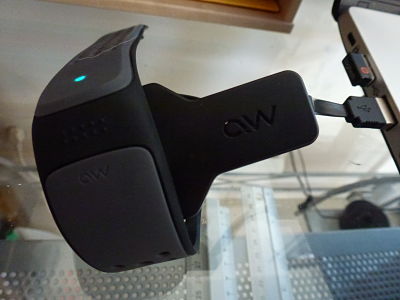 Mio Link Charging
I've never really tested how many hours of use I get between charges but it is definitely more than 4 hours. I tend to charge it generally after 3 hours of total running and the charge time seems to be a couple of hours.
The strap is made of a thin, flexible rubber material and so it can get a bit sweaty. The sensor part can easily be moved from the strap for cleaning, it just pops out. I tend to wash the strap in warm soapy water and I wipe the sensor with a damp cloth or bacterial wipes.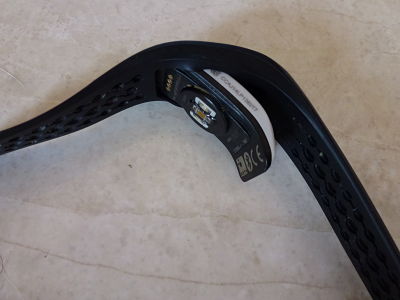 Removing Mio Link Sensor
Mio Link Review - Tips
Having used my Mio Link for over a year now, I've now sussed out how to get the best out of it.

Wrist placement
I find I get the best signal if I place the Mio Link right next to my GPS watch and on the same wrist. I have the sensor on the top of my wrist.
Weird readings
I had issues at the beginning with  some really weird HR readings. I solved that by firstly improving the contact of the light sensor with my skin. I do that by licking my wrist and the light sensor before I place it on my wrist. Secondly, I secure the wristband pretty tightly so that I can't see the light coming our from the sensor. That seemed to sort out the weird HR - phew as I thought I had an odd heart.

Mio Link Review - Do I recommend it?
Like I said before, many people feel that a chest strap is the most reliable HR monitor. However I've not tested one but I do know that I would find it irritating to wear around my chest. 
I did get a few questions from others at first as to why I was wearing 2 'watches' and yes it does look a bit strange but I am used to it now. I do all my runs wearing my Mio Link  and since I have sorted out the connection issues, I love it. It's reliable, easy to clean and charge, ultra simple to use and it is not that expensive.
I guess when I have to change my GPS watch, I'll invest in one which has a built in HR monitor but for now, this set up works fine for me.
November 2016 update:
I started getting problems with charging. The charge time was getting shorter and shorter and then eventually the battery packed up altogether. 
I feel unable to recommend the Mio Link right now but as an alternative I would certainly look at the Scosche Rhythm+ Heart Rate Monitor Armband
Other Reviews