My Favorite Running Movies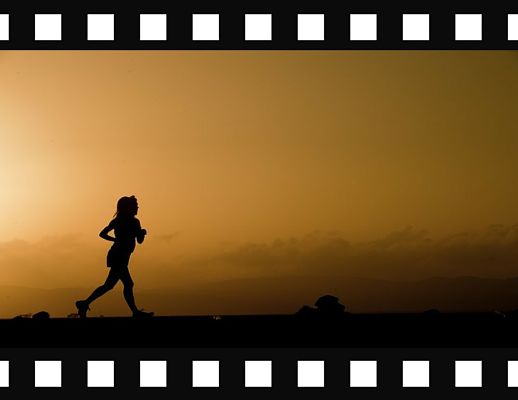 Running movies from tears, to drama to laughter and adventure. Kick your trainers off, get the popcorn popped and settle down for an exhilarating movie fest.
Although the popularity in running is relatively new, there have been some great running movies made over the years, even before the running boom took off. In fact one of the first films I watched at school and which made a huge impression on me, was the Loneliness of the Long Distance Runner (1962).
Here are my top 8 running movies which I hope you get a chance to watch, if you haven't already:
My best Running Movies
#1. The Loneliness of the Long Distance Runner (1962)
Don't let the date this film was made put you off. Set in rural England in the late 1950's, Collin Smith a petty delinquent, is sent to a reform school. Here Collin shows his strength in running, which earns him special favoritism from the governor.  This favoritism has its up and downs which Collin has to deal with. The film culminates with the prestigious 5 mile race against a nearby privileged public school, with the governor wanting to prove that his rehabilitation program is working....... (I won't spoil the end of the film for you). Just watch it!
#2. Run Fat Boy Run (2007)
This is one of my favorite running movies and I can watch it over and over again. You will laugh, cry, and be cheering from the sofa, all at the same time. 
Simon Pegg stars as Dennis who leaves his fiance Libby at the altar. Five years later, he totally regrets it and wants Libby to take him back. Trouble is, she is now happily dating a rich and handsome financier and they are soon to get married. Dennis in a last ditch attempt to win Libby back, decides to train for a marathon in 3 weeks, in order to prove that he is not a loser. Marathon training, blisters, hitting the wall, determination....... One of my favorite movies.
#3. Forrest Gump (1994)
Tom Hanks plays Forrest Gump who has a low IQ but a heart of gold. The film starts in his childhood where because of his crooked spine, he is forced to wear leg calipers. One day, he suddenly finds out that he doesn't really need his calipers and that he can in fact run - fast. As an adult, his childlike innocence  and simple way of seeing things, makes him a fortune financially. However what Forrest really wants, is to love and to be loved. After his heart is broken by his one and only true love, he decides to go running and doesn't stop. In fact, he keeps on running for nearly three and a half years. The end of the film will have you smiling and crying. 
#4. The Barkley Marathons: The Race That Eats Its Young (2014)
Oh my goodness, don't even think of doing this race if you are attempting your fist ultra. But do watch the film as it absolutely awe inspiring.
The Barkley Marathons is a real annual race that takes place in Tennessee around the beginning of April and is thought to be the toughest foot race in the world.  It is so tough that as of 2018,  only 15 people have completed it since it started in 1986. This film is a documentary following the runners as they battle out over 100 miles and over 16,000 feet of elevation. This film is about survival, self preservation, guts, strength and pure determination. Believe me, your gut busting intervals are nothing compared to what these guys go through.
#5. Chariots of Fire (1981)
Chariots of Fire is set in the 1920's when social class and religious beliefs were causes of constant battles. The film follows two runners with very different goals as they prepare to battle it out in the 1924 World Olympics. Harold Abrahams (played by Ben Cross), uses his running to deal with the antisemitism he experiences at Cambridge University whilst  Eric Liddle  (played by Ian Charleson) born to Scottish missionaries, wants to prove that God created him to run and that his running serves to please God. Chariots of Fire won 18 film awards so put it on your list to watch.
#6. McFarland, USA (2015)
We all love a bit of Disney every now and then, so get ready for that Disney feel good magic with McFarland, USA.  The film is loosely based around a true story.
After some unfortunate events, Jim White (Kevin Costner) finds himself as the sports coach to a bunch of disadvantaged, mainly Latino kids in Macfarland High School, California.  When Jim discovers that some of the kids are exceptional runners, he decides to create a boy's cross country team. Will their family life, social situation and social values hinder or help them? Find out and watch it ;).
#7. Gun Runners
I got goose bumps when I watched the trailer to this film. Here I sit with my numerous pairs of trainers and a cupboard full of running clothes and yet none of it is really valuable in the grand scheme of life.
The film is a documentary following the lives of two Kenyan tribal warriors over a period of 10 years. Julius Arile and Robert Matanda belong to a band of warriors in Northern Kenya who live life by stealing cattle and running from the police. One day however, they decide to trade their guns in for a pair of trainers and the chance to change their lives.

#8. Spirit of the Marathon (2007)
If you are thinking of doing a marathon or perhaps already have a few behind you, then watch this film and get inspired, encouraged and motivated.
Spirit of the Marathon is a documentary film that follows a group of runners as they prepare for the Chicago 2005 marathon. Filmed over 5 continents, the film follows the life and training journey of 6 runners from beginner to well seasoned, in their bid to challenge the 26.2 miles.
If you like my list of running movies, then also check out my list of favorite running books and these stories of inspirational women runners.