New Balance 1080v5 Review
I'm a bit of a New Balance fan and here's my New Balance 1080v5 review. I have had them for about 2 months and done around 150km on road, track and trail.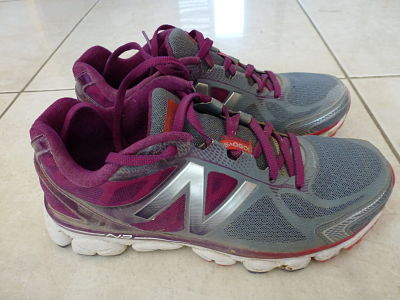 New Balance 1080v5 women's
New Balance 1080v5 Review - The Basics
Heel to toe drop = 8mm
Weight = 258 grams (? which size)
Type = Neutral, cushioned
First thoughts - The look
Straight out of the box and I love the look. Normally I go for bright colors, but this time I decided to be a bit more conservative and I was not disappointed. There is quite a lot of grey but that is fine with me because I tend to run on dusty trails. The grey is offset by deep purple and some shiny reflective bits which I think look cool.
The laces though are crazy. They are the longest laces that I have seen and tying them up means double knots which still look long and lanky.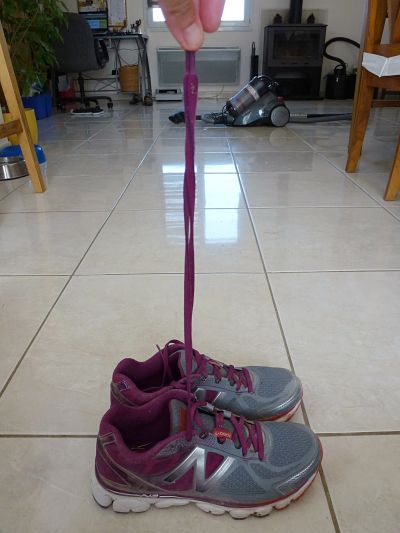 New Balance 1080v5 - LONG laces
New Balance 1080v5 Review - Comfort & Performance
New Balance markets the 1080v5 as a cushioned shoe "made for the long run with premium features like nitrogen-infused N2 cushioning that delivers lasting comfort".
When I first put them on, my feet definitely felt like they were cocooned in a sumptuous pillow and they just seemed to give my feet a great big hug! The heel counter wrapped comfortingly around my heel and my feet felt secure
The first few outings, I took gently and although the shoes were comfy,  I must admit that the comfort factor wasn't as great as I thought it would be.  Certainly they were cushioned but after a while I felt that the sole could have done with a bit more cushioning especially on runs over an hour. Plus the insole annoyed me as I could feel the outside edge on one foot. Thankfully the insole issue didn't last and was probably my feet just getting used to the shoe.
I'v done both long and short easy runs in the 1080v5 and both have been comfortable. However the faster the run, the more I notice that this shoe is a cushioned shoe and not really designed for speed. It somehow feels a little clunky. That is not a bad thing though as it forces me to stick to slower paces which is often a good thing.
What I was very happy about was that the 1080v5  felt great on a variety of terrain. Around me there are lots of foot paths and fields to run in and I felt secure on my feet and the shoes seemed to effortlessly cope with bumpy ground and loose gravel.
The sole of the 1080v5 is made of  blown rubber and has a honeycomb type pattern. This works well for providing grip and shock absorption but I do find that small stones tend to get lodged in the holes. Not a big problem in training but it might be annoying if you were racing.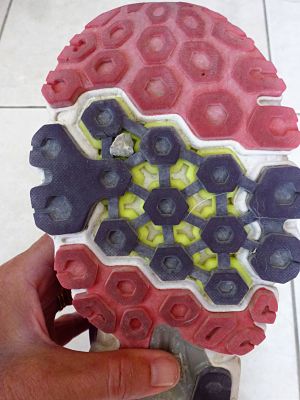 New Balance 1080v5 Outer sole
New Balance 1080v5 Review - Sizing and Weight
In terms of sizing, I usually take a size 39 eu in running shoes and I did the same with these. The fit is great and may even be a tad too big. There is stacks of room round the toes (I have average wide feet) and I haven't felt any tight spots.  
On the scales, my New Balance 1080v5  weighed in at 242 grams.  For most people, that is quite a light shoe but as I am quite small I usually aim to go for under 230 grams if possible. However these are fine for long runs and everyday easy training, maybe less so for racing.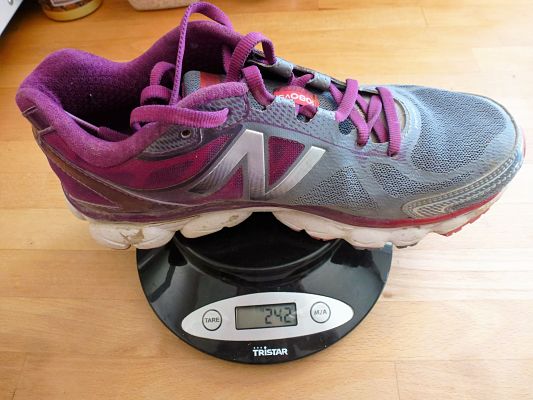 New Balance 1080v5 size 39eu weighing in at 242 gramss
The main reason for me is that I prefer a lighter shoe when racing. The extra cushioning adds weight and then on top of that, if I add my custom orthotics, I feel like I am wearing boots. Actually having worn orthotics for the last couple of years, I decided to try the 1080v5  trainers without them and I am pleasantly surprised. My knees feel great and I have had zero issues.

Would I Recommend the New Balance 1080v5? 
Yes without a doubt I would recommend them. They are not the lightest shoe but they are great in training and for longer runs or races. I don't have any real negatives except for the long laces which I'll probably change.
They are now my regular training shoe and the fact that I have no knee or Achilles pain whilst wearing them, is definitely a big plus in my book.
September 2016