Women Runners
Women runners are on the increase. However we still lag a long way behind the men in terms of numbers. Maybe these female runners will inspire you to get out there and just run.
Remember, you don't have to be the fittest or the fastest or the youngest as you can still be an inspiration to someone else.
Kathrine Switzer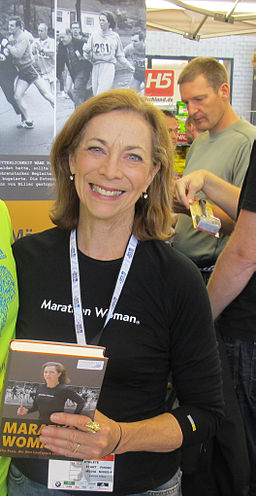 Kathrine Switzer was the first woman runner to take part in the Boston marathon. Back in 1967 when the Bostom marathon was in its 70th year, female athletes were not allowed to participate as it was deemed too difficult for a woman. However 19 year old Kathrine had other ideas and she persuaded her then coach to allow her to run it. She signed up under the name 'K.V. Switzer' so it was not clear that she was a female.
On Wednesday, April 19, Patriots' Day, Kathrine stood in line with the other 741 runners,  wearing lipstick, gold ear-bobs and bib number 261.  All went well for the first 4 miles until the race manager, Jock Sempel, realized that there was a woman running 'his' race. He desperately tried to physically stop her and the press bus was loving the drama. However Kathrine showed huge guts and determination and she managed to finish the marathon in 4h20m . Since then, in 1971, the Amateur Athletics Union (A.A.U.) officially allowed women runners to take part in the Boston Marathon.
Now an author and television commentator, she has also written a book about her life story: Marathon Woman: Running the Race to Revolutionize Women's Sports 
NB Although Kathrine Switzer was the fist to run the Boston marathon wearing a bib number, she was not the first female to actually finish it.  Bobbi Gibb had run it the year before as an unregistered runner.
Julia Hawkins

Many people might not have heard of Julia Hawkins but in March 2018 she set a new world record for running the 60m in 24.79 seconds - and she was 102 years old!  That's a pace of around 6:57minutes/km or 11:10/mile. No wonder she is now called Julia 'Hurricane' Hawkins. 
Her secret? 
She started running on her 100th birthday and since then she hasn't stopped. In her own words: "I do a little running around each day—not a certain amount or time—but just to keep everything going".  "I always need somebody to catch me at the end of races because I'm out of breath and exhausted".   Before races she says: "Whatever it is I've got, I've got it already, and you don't need much stretching—or at least I don't".
She also keeps busy tending to her backyard and has the unending support of her 4 children ages 64 to 71.
Well Julia, hats off to you. You are an inspiration to all older women runners and I hope that I am still running at your age too.
Lee Dipietro
Lee Dipetrio was born on 11th April 1958, the middle daughter of 5 girls and grew up in Long Island New York. She married her husband Lee (yes, same name) in 1981 and they went on to have 2 boys.  She started running in her twenties and soon she was dominating events from the 5km to the marathon to triathlons. She has done more than 30 marathons, six Ironman Triathlons and numerous other endurance competitions.
In 2010 though, life was to deal her a challenging hand. She lost her sister to suicide, her husband was diagnosed with cancer and one of her sons was involved in a serious car accident. Her running was to be her savior and she ran to clear her mind and to make herself feel strong mentally and physically so that she could care for her family.
She has gone on to write a book Against The Wind, about how running helped her through those dark and difficult days and how strength comes from within if you believe in yourself and if you look for it.
Mirna Valerio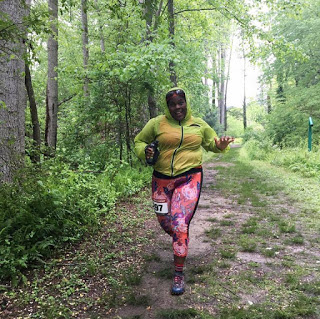 Many people have a stereotypical image of runners ( women runners in particular), but in truth, a runner can be any shape or size. Mirna Valerio has proved just that.
At the age of 8 years old, Mirna discovered her love of being outdoors. This led to her taking up various sports such has swimming, hiking and field team sports. After she finished college, she experienced some life stresses which led to her stopping exercise and gaining weight. By 2008 she weighed 300lbs and her doctor advised her to lose some weight if she wanted to be around to see her young son grow up.
When the time felt right, she decided to take up running and in 2012, she decided to run a marathon. This led to her starting her blog Fat Girl Running, so that her family and friends could follow her progress as she progressed from 5k's to Ultra marathons.
However, with the world being as it is, some people took it in their minds to be negative and critical about an overweight, black girl running. Triumph to Mirna though and she did not let those people stop her. In fact it motivated her. As she says, "I want to continue sticking my big ass into places where people think I don't belong. That has been the nature of my life—I'm going to do it and I'm going to do it proudly". 
All I can say Mirna is that you are a true inspiration to all women runners who are doubting themselves about not looking 'the part'. Just get out there and run and be who you want to be and take heart in her new acronym "DNQ" (Did not Quit).
Mirna also has written a book about her journey A Beautiful Work in Progress.
Catra Corbett
It's strange how it sometimes takes a crisis (or several), to make a triumph. Catra Corbett, age 53, is an example of just this.
As a young child she suffered mental health issues, sex abuse and low self esteem. By the age of 17 when her father died, she turned to alcohol and drugs to help blot out the pain in her life. By the age of 21 her life was spiraling out of control with toxic relationships, drug addiction and anorexia. Eventually, life came crashing down on her and being arrested  and attempting suicide were her turning points and in 1996, she turned to running in to help save herself.
"My life changed when I found running. It helped me figure out who I was and who I was supposed to be. I shifted from being that cool girl, in the club to the cool girl on the trail, who is positive and outgoing. My life's mission is to inspire as many as I can through my story. Sure, I still have anxiety, depression, stress and OCD but I have learned how to cope with it."
Besides her fantastic achievements in overcoming addiction,  Catra's steely determination have helped her to become a hugely respected ultra runner. She has now run 250 ultra marathons with 100 of those being over 100 miles (as of 2018). Gulp!
If her life resonates with you or you want to be truly inspired, read her story Reborn on the Run: My Journey from Addiction to Ultramarathons
----- Women Runners -----
If you don't fancy reading right now but fancy a night in front of the TV, then check out these oh so fabulous movies  on running.