Energy Date Balls for Runners
These energy date balls are my yum yum treat for when the going gets tough.
Whilst training for my first ultra marathon I was looking for a homemade recipe that would give me a steady stream of energy, not make my stomach lurch, was easy to pack, easy to make AND tasted yummy.
Bring on these Energy Date Balls!
I found several recipes on the internet and played around with the ingredients until I got the recipe just how I like it. I hope you like it too.
There is no cooking involved so these energy date balls are super easy to make.
Ingredients for energy date balls
200g dates (destoned)
50g oats
1x tbsp peanut butter (unsweetened)
3/4 cup ground or finely chopped hazelnuts or almonds
2 tbsp Chia seeds
2 tbsp sunflower seeds
1 tbsp whey protein powder
1 tbsp coconut oil (softened or melted)
1 tbsp cacao powder
1 tsp ground cinnamon
1 tsp ground ginger
2 tbsp desiccated coconut (unsweetened)
Method
Soften the peanut butter and coconut oil if necessary.
Place all the ingredients (minus the coconut) together in a mixer and blitz until the mix starts to come together in a ball.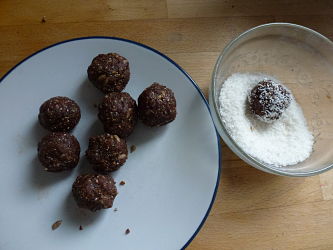 Place the desiccated coconut in a bowl or on a plate.
Divide the energy ball mix into about 20 pieces. Roll each piece between the palms of your hand to form a ball shape and then gently roll in the coconut.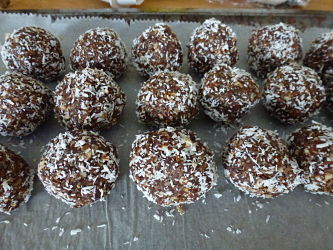 Place the balls in the fridge to harden up a bit. You can also place them in the freezer and then just remove them as you need them. They don't freeze rock hard so they can be eaten almost straight away.
Nutrients per piece (based on 20 pieces):
Kcal:  96.4
Protein: 2.75g
Fat: 5.2g
Net Carbs:  9.8g