SportSet Headphones Review
Sportset Headphones review from a runners perspective.
Recently I was asked to review a new product to the market  - Mifo SportSet Headphones sold by Sport & Outdo (S&O). These are open-ear headphones which serve as a head sweat band as well.
To be honest, I don't usually wear headphones when out running as I like to be able to hear what's going on around me. I do however like to wear a sweat headband and I do carry my mobile phone with me, so I was interested to give the SportSet headphones a try.
It's worth noting that this is a 2021 red dot award product winner so an impressive start for the product.
What's in the box - Sportset Headphones Review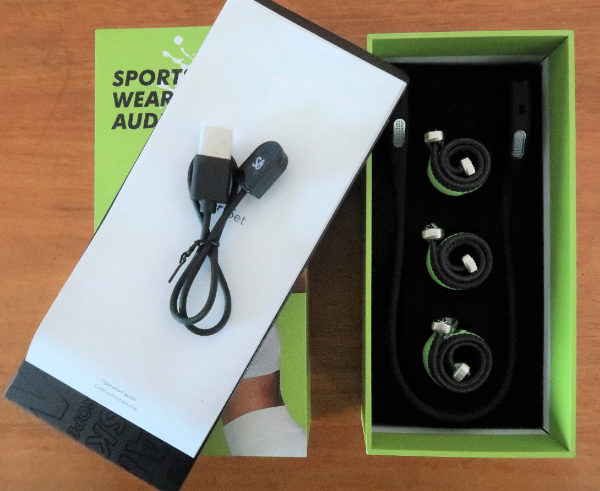 Sportset Headphones review - what's in the box
The SportSet headphones comes in 3 different sizes (S, M, L) so make sure to measure your head circumference before ordering. I ordered the S (52 – 55 cm).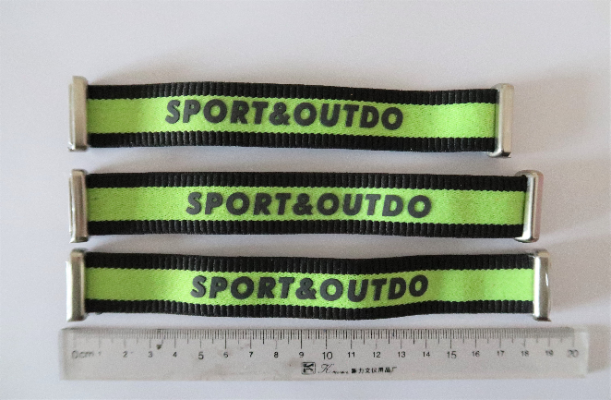 Sportset Headbands
As you can see, you get 3 headbands in the box each one being 10mm different in length. In the case of the size S, I received a 160mm, 170mm and 180mm. The headbands are made of a soft but stretchy material and currently only comes in green and black.

Also in the box, you get a USB charging cable, and the all-important headphones. The headphones band is made of  silicone rubber and I was  very impressed by the quality feel of it - soft, supple and smooth.
It is worth noting that the silicone rubber headphones have an IPX7 Waterproof rating so the headphones can certainly withstand a good downpour if you get caught out in the rain. 
There is also a paper instruction manual in English, German, Japanese and Chinese. Instructions are available online too.
Setting up the Headphones
Setting up the headphones was relatively straightforward.
You need to connect the stretch headband to the ends of the silicone headphones by sliding together the connector pieces until you hear a click. I was hesitant at first as it seemed quite tight but after a few attempts, I got the hang of it.
You can also remove the stretch headband by just reversing the process. This you might want to do if changing the headband or if you want to wash it.
Sportset Headphones Clipping together
Charging the headphones couldn't have been simpler. The USB end I attached to my laptop and then the magnetic POGO pins attach seamlessly to the headphones. The green light flashes as it is charging and then goes out when charged. 20 minutes later and I was good to go.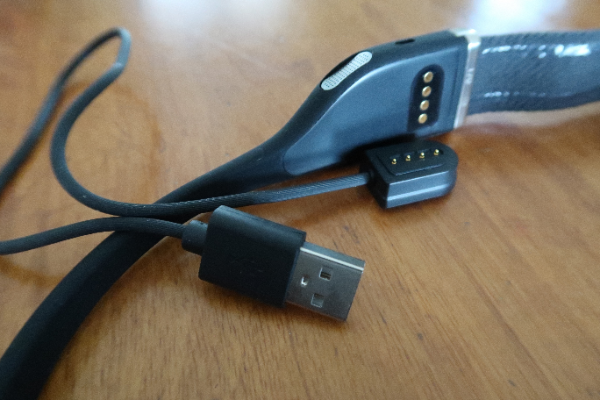 Sportset Headphones charger
Wearing the SportSet Headphones
You need to place the headphones  just above your ears, with the speakers in front of and angled backwards towards your ears.
The front headband is elastic soft nylon with 2 strips of silicone on the underside to make sure that it doesn't slip. There is some stretch in the front band, unlike the headphone band which is made of silicone and does not stretch.
The headphone band itself is one size only which means the speakers might be in a slightly different position depending on your head size. For me, as I have a smallish head, I found the speakers sit further forward in front of my ears as opposed to someone with a lager head. However, they are still very comfortable.
Pairing the SportSet Headpohones via Bluetooth
Connection is done via bluetooth 5.3. 
On the right-hand side of the silicone headphone band, there is a large square button. Press for 1 second and you hear a voice saying, "Hi S&O". Turn on Bluetooth on your phone and connect to "SportSet headphones". Your headset will then say "Connected".
All very easy!
Listening to Music
I don't usually listen to music whilst running but I actually did enjoy using the headphones.
To change the volume and song, you need to press either the + or - buttons located on the headphones band.  The buttons are a decent size and easy to find so there is no fumbling about trying to locate them.
In terms of sound quality, it was good rather than very good. There is not much bass and the max volume is not very loud. As the sound comes out of the speakers as opposed to in-ear, I was still able to hear cars and people around me, even on max volume. However, the downside is that everyone around me can hear my music too. That was very annoying for my running buddy.
Sportset Headphones buttons
Answering the Phone - Sportset Headphones Review
This was definitely a win feature for me. The main on/off button on the headphones band is also used for answering and hanging up calls. I could answer calls without having to access my phone and so it stayed snugly in my running belt.
There are 2 built in microphones (although I'm not sure exactly where they are!) and the caller was able to hear me easily.  As a side note, you can not make calls but can only answer them.
Sportset Headphones Review - General Thoughts
I have now been on quite a few runs with the SportSet headphones  and I am very impressed with the quality feel to them. They are extremely comfortable to wear and  I was surprised how I hardly noticed that I was wearing them.

The front band did not slip at all and I really like that I can take it off to wash it (hand wash only). It would be good to know if replacement straps are available but I couldn't find that information. (Since my review, Sport & Outdo have advised that replacement straps will be available).

I wasn't quite sure why I would need 3 different sized stretch bands as it seemed a waste when I only wear 1 or perhaps 2. I would have preferred 2 that fitted and were the same size (one to wear and one in the wash). I like the green/black colors but maybe in the future other color options could be introduced.
The sound from the headphones is provided by a16mm dynamic coil. Since I don't usually listen to music on the run I'm not an expert on running headphones. However, the sound seemed perfectly acceptable to me but maybe lacking in a bit of bass. I really like the fact that the maximum volume is limited so you can still hear what is going on around you.
In terms of battery life, I haven't yet tested it to the maximum time limit. The manufacturer says 5 minutes of charging will give you 2 hours of play-time and 40 minutes of charging will give you 5 hours of battery life.
For me personally, the sweatband and the phone features were my favorite. I may well listen to music from time to time but I would do it when no one else is around me, purely because they can hear the sound. However, if you are less bothered by the open speaker sound and like to listen to music on the run but also want to hear sounds around you, then this headset could certainly be a good option. 

The sportset headphones are currently available at Sport & Outdo
 (Sportset Headphones review : November 2022)