Better late than never!
by Patrick Mitchell
(Delaware)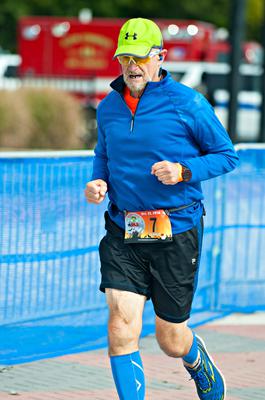 Crossing the finish line of my first marathon (2016)!
Full disclosure: I used to think runners were crazy people! Well, maybe we are, and if that is the case, I am glad now I can be part of this "crazy" group.

I've had pretty much been overweight / obese from the time I went to college at age 18 (which was WAY back in 1975) until 6 years ago (2011), when I decided enough was enough with the weight and opted for weight loss surgery (Lapband).

Not very long after that (surgery was at the end of September 2011), I had this HUGE burst of energy! So I started walking, which then turned into a jog, which turned into running! I ran my first 5K race in April of 2012, and have never looked back! I ran my first 10K in 2013, first half marathon in 2015, and first marathon in 2016. For the past two years, I'm averaging a race a month. I'M HOOKED! I'm 60 now and look forward to running many, many races in the future.

Things I have learned that new older runners need to know:

1. Shoes matter! Get fitted at a running store, don't be afraid to spend some $$$ on good running shoes, and make sure to replace them in a timely fashion! I use 300 running miles as my criteria for replacement.
2. Run/Walk is OK! There are runners out there that badmouth the Galloway Run/Walk methodology. I'm a disciple! It makes running fun for me, and I have crossed every finish line of every race I've run in. I'm not going to break any speed records, but that's not the reason I run. I run for me and my health. As an older runner, I think is it the best way to run.
3. Treadmills are OK, but outside is the best!
4. Join a running club.