My First Marathon age 54
by Bill
(Limoux, France)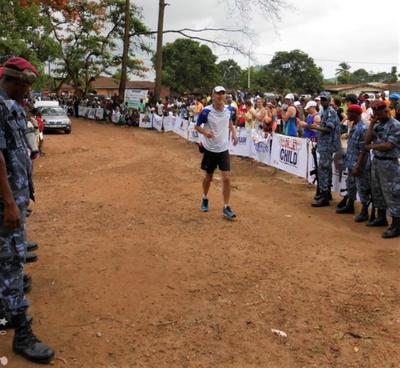 Finish!
Looking back, it was a fairly ridiculous thing to do. Sign up to run a marathon in Africa, Sierra Leone to be precise, where it was going to be over 30°C and 90% humidity, not having run even a half marathon before.
I don't consider myself a sporty person, I was never in the first team at school for any sport. I had started jogging sporadically in my forties and then a little more regularly when we moved to France and I turned 50. But nothing more than half an hour in the lanes around the house. So there was a lot to do.
I followed a 3-month training programme downloaded from the internet. It is four years ago now but I think I followed it quite carefully, running 3 to 4 time a week, and eventually being able to run for two and half hours on a long run.
And on the day it was hot, damned hot. But it was also exhilarating. Hundreds of runners, from all over the world and from Sierra Leone itself. The starting gun fired by the President himself. And it was hard. I made the classic mistake and started out too fast and then I made a second classic mistake when I started running at the same pace as a young Lebanese guy from Guinea Conakry, which was fine for the first 20k but it wasn't my marathon pace and I couldn't sustain it. The second half was a nightmare or perhaps a dream; did I really meet a white man walking the course the other way and handing out cold fresh pineapple slices? I finished it in 5 hours 20 minutes, a fantastic sense of achievement, and 5 days of aching muscles that made me walk like John Wayne.
Epilogue: Four marathons later, a half marathon, plenty of local 10k's and obviously I am still running. And I don't want to stop there. The next objective is to run an ultra, before I am 60. But the real moral of the story is that everyone can run.