Running Posture
Have you ever watched a marathon on TV and looked at the running posture of the runners?

Some are upright and fluid looking, others are head bent down and shoulders hunched over, others have a kind of swing in the legs or a jerky motion. Even the marathon elites all have their own running style.
Basically everyone has their own running style and it is not necessarily a bad thing. We are never all going to look the same as we run, just like we all walk differently.
However sometimes there are small 'tweaks' that you can do to your running posture which in turn can help minimise your running injury risk. 
What is the Best Running Posture?
Poor Running Posture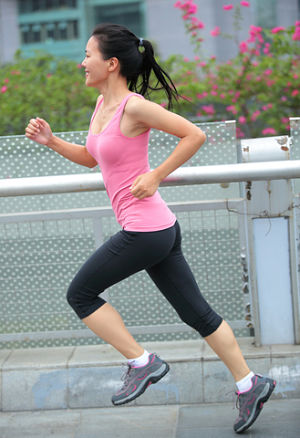 Good Running Posture
I am a big fan of the Chi running principles. Chi running is all about reducing running injuries by  running with a relaxed body and mindset and with good body posture and alignment.

I used to really slouch as you can see from the above picture (left) but by practicing Chi I have improved drastically. No more embarrassing race photos!

Below are some of the key Chi principles to help you maximise your running posture.

Tip: Work on one aspect at a time when altering your running posture as otherwise it is too much of a change for your body.

Look Ahead
Look ahead and not down at your feet but also don't jut your chin out.  Imagine that you are holding a grapefruit between your chin and your chest and that a pieces of string is attached to the crown of your head and it is holding you up. 
Relax Your Shoulders
Relax your shoulders and dont hunch them tight and high. If your shoulders are relaxed then this will also relax  your neck and head.
Bend Your Arms
Your forearms should form an approximate 90° angle with your upper arm when bent and be parallel to the ground when in full swing. Keep the forearms waist height. and don't swing your arms across your body but rather move them in a forward sawing motion. 
Your elbows shouldn't come in front of your body. Imagine that your wrists are joined to your hips by a short elastic. The only time when you might want to bring your arms up and more forward is when  running up a hill. 
Hands and fingers should be relaxed. Pretend that you are holding a crisp (chip) between your thumb and forefinger, that you don't want to crush.
Straighten Your spine
Your spine should be straight but have a very slight forward lean. Lean from your hips and not your waist.  A slumped spine means you'll have a harder time breathing properly so you'll be getting less oxygen to your muscles.
Top Tip: To help keep your spine straight, imagine that you are using a skipping rope (jump rope). By doing this, you will automatically straighten your spine and your arms will fall into a natural position for running. When running, every now and then take a body check and see if you are in the skipping/jump rope position
Don't stick your bottom out
If you stick your bottom out, then you are probably bending at the waist and arching your spine too much.
A visualization trick I learnt was to imagine that my pubic bone area was a bowl full of water. If my spine was positioned correctly then no water should be spilling out of the bowl. I was also told to imagine that I had a coin in between my buttocks. A strange thing to imagine but it does seem to work!
Avoid Over Striding and Heel Striking
 Let your feet fall under your hips rather than out in front of you. Someone told me to "lead with my heart" and this is a great reminder to me when I find myself going feet first. 
When your feet land on the ground, aim to land heel to mid foot. If you land heel first, that puts an awful lot of strain on your knees and often leads to injuries.
Also don't stamp your feet on the ground. Try and be quick and light. 
Count your cadence
Your cadence is the number of strides (left and right) you take per minute. The lower the cadence, the more time each foot spends on the ground. More time on the ground means that you are using more energy and subjecting your joints to more stress. Aim for a cadence of 180 if you can.
I started out at around 165 so it took me a few months to achieve this. Don't rush it but just increase a few steps a week until you get used to it. I clipped a mini metronome onto my waistband which beeped at a set rhythm and I just ran to the rhythm. A bit embarrassing when people were nearby but it worked.

Keep your muscles, joints, ligaments and tendons flexible
As we get older we get stiffer so make sure you do activities to maintain as much flexibility as possible. More flexibility means you can run more fluidly and with less injury risk.  Fitness ideas apart from running.

Listen to you body
If you start getting a niggle here or there, see if shifting your running posture or changing your breathing helps. Often it does.